Heavy Precipitation in Southeast nebraska
July 25-26, 2005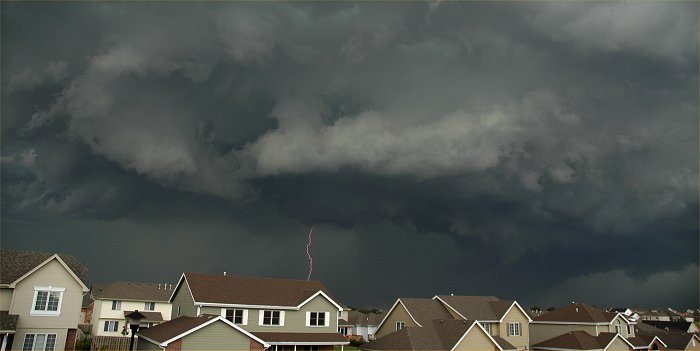 July 25, 2005. A severe thunderstorm plows into Lincoln during the early evening. Note the lightning
strike in the distance. Image © HPRCC

July 25, 2005. A severe thunderstorm plows into Lincoln during the early evening. Note the lightning
strike in the distance. Image © HPRCC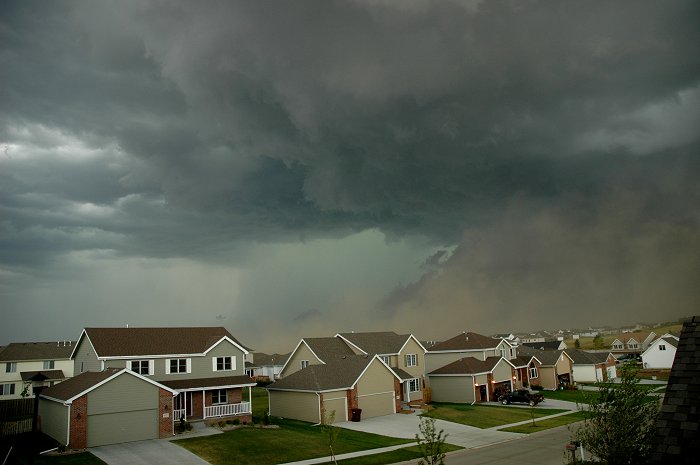 July 25, 2005. A severe thunderstorm plows into Lincoln during the early evening. Note the large
amount of dust being sucked and blown up into the storm in the center of the photo and extending to the right edge.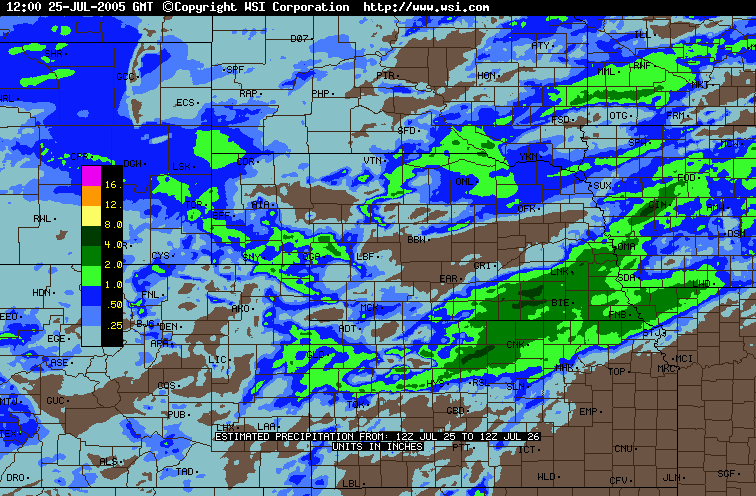 July 25 High Temperatures, July 25-26 Precipitation Totals
MAX/MIN TEMPERATURE AND PRECIPITATION TABLE FOR NEBRASKA
NATIONAL WEATHER SERVICE HASTINGS NE
744 AM CDT TUE JUL 26 2005
: VALUES REPRESENT YESTERDAY'S HIGHS...LOWS OVER THE LAST 12 HOURS AND PRECIPITATION OVER THE LAST 24 HOURS.

: STATION MAX / MIN / PCPN /
:
ANW : AINSWORTH AIRPORT : 77 / 55 / 1.17 /
BVN : ALBION AIRPORT : 84 / 59 / 0.01 /
AIA : ALLIANCE : 87 / 54 / 0.21 /
AUH : AURORA : 90 / 62 / 0.31 /
BIE : BEATRICE AIRPORT : 100 / 66 / 1.38 /
BBW : BROKEN BOW AIRPORT: 78 / 57 / 0.04 /
CDR : CHADRON : M / 55 / 0.12 /
OLU : COLUMBUS AIRPORT : 91 / 63 / 0.00 /
FNB : FALLS CITY AIRPORT: 97 / 71 / 2.38 /
FET : FREMONT AIRPORT : 95 / 63 / 0.60 /
GRI : GRAND ISLAND : 89 / 59 / 0.19 /
HSI : HASTINGS AIRPORT : 92 / 63 / 0.72 /
HJH : HEBRON AIRPORT : 103 / 66 / 1.84 /
HDE : HOLDREGE : 87 / 60 / 0.19 /
IML : IMPERIAL AIRPORT : 93 / 60 / 0.23 /
EAR : KEARNEY AIRPORT : 88 / 59 / 0.02 /
IBM : KIMBALL AIRPORT : 85 / 56 / 0.89 /
LXN : LEXINGTON : 85 / 59 / 0.02 /
LNK : LINCOLN AIRPORT : 102 / 65 / 3.68 /
MCK : MCCOOK AIRPORT : 91 / 61 / 0.52 /
AFK : NEBRASKA CITY ARPT: 99 / 66 / 1.86 /
OFK : NORFOLK AIRPORT : 86 / 61 / T /
LBF : NORTH PLATTE ARPT : 88 / 57 / 0.13 /
OFF : OFFUTT AFB : 99 / M / M /
OGA : OGALLALA AIRPORT : 91 / 57 / 0.34 /
OMA : OMAHA/EPPLEY : 102 / 67 / 1.38 /
MLE : OMAHA/MILLARD : 99 / 66 / M /
ONL : O'NEILL AIRPORT : 79 / 55 / 0.08 /
ODX : ORD AIRPORT : 84 / 59 / M /
BFF : SCOTTSBLUFF : 90 / 57 / M /
SNY : SIDNEY : 93 / 56 / 1.38 /
TQE : TEKAMAH AIRPORT : 91 / 64 / 0.27 /
TIF : THEDFORD AIRPORT : 77 / 55 / 0.13 /
VTN : VALENTINE AIRPORT : 79 / 56 / 0.06 /
OAX : VALLEY NWS OFFICE : 94 / 65 / 3.11 /
LCG : WAYNE AIRPORT : 82 / 59 / 0.01 /
JYR : YORK AIRPORT : 93 / 61 / 0.65 /

: STATE TEMPERATURE EXTREMES
:
: 103 DEGREES AT HEBRON AIRPORT
: 54 DEGREES AT ALLIANCE