The Badlands National Park, South Dakota -
High Plains Regional Climate Center.
A Photo Tour: Summer 2006.
Four Photo Gallery Links:
"Located in southwestern South Dakota, Badlands National Park consists of 244,000 acres of sharply eroded buttes, pinnacles and spires blended with the largest, protected mixed grass prairie in the United States. The Badlands Wilderness Area covers 64,000 acres and is the site of the reintroduction of the black-footed ferret, the most endangered land mammal in North America. The Stronghold Unit is co-managed with the Oglala Sioux Tribe and includes sites of 1890s Ghost Dances. Established as Badlands National Monument in 1939, the area was redesignated "National Park" in 1978. Over 11,000 years of human history pale to the ages old paleontological resources. Badlands National Park contains the world's richest Oligocene epoch fossil beds, dating 23 to 35 million years old. Scientists can study the evolution of mammal species such as the horse, sheep, rhinoceros and pig in the Badlands formations". EXTERNAL LINK: Badlands National Park (National Park Service)
---
TWO Related Sites:
Sandhills and Northwestern, Nebraska -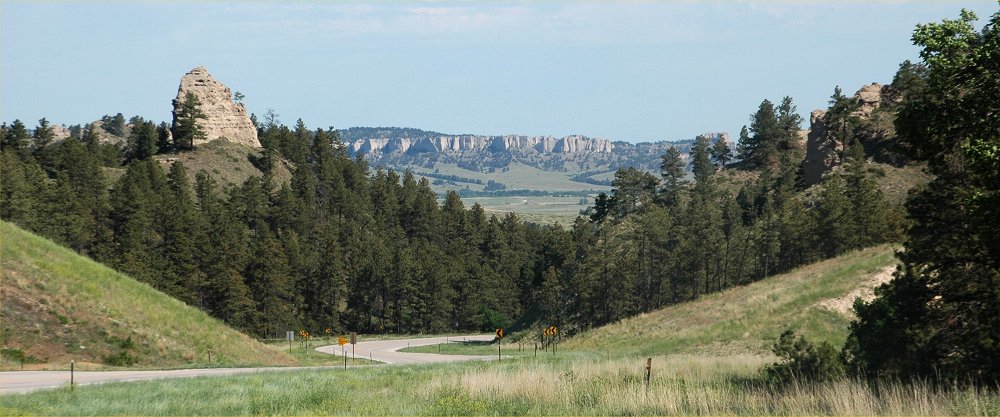 Click Here>> A Photo Tour: Summer 2006
Photo, Image © Ken Dewey, HPRCC.
Summer 2006 near Crawford, Nebraska along Nebraska Highway 2.
AND:
Year 2001 Nebraska Sandhills photo tour


South of Mullen, NE in the Nebraska Sandhills. Photo © 2001, HPRCC
Click Here>> Nebraska Sand Hills 2001 - A Photographic Tour
Return to: The Photo Gallery Index Page